Should my family travel during COVID-19?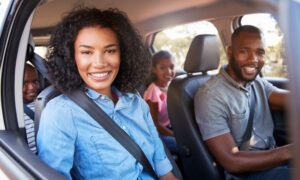 For many families, vacations are a time to see relatives, relax and spend time together. When coronavirus disease 2019 (COVID-19) first began to spread, many people canceled their existing travel plans. But now, as families try to navigate their "new normal," some are wondering if they can plan any type of vacation in a safe way.
Though escaping to a white sandy beach, hitting the slopes or seeing relatives after months of social distancing is tempting, it's important to know that any travel comes with risk of contracting and spreading COVID-19. According to the Centers for Disease Control and Prevention (CDC), staying home is the best way to protect yourself and others from getting sick.
However, if families must travel or choose to travel, they should follow recommendations from the CDC to plan ahead and stay as safe as possible.
"With travel, there's always a risk," says Jeffrey Kahn, M.D., Director of Infectious Disease at Children's Health℠ and Professor at UT Southwestern. "If you're going to travel, the question is how do you reduce that risk as much as possible?"
Dr. Kahn shares advice on what to consider if you are planning travel during COVID-19.
Coronavirus and travel: 5 things to consider
1. Know your family's risks
Your family members are far more likely to get COVID-19 if someone in your household brings it home. That's why you need to consider each member of your family's risk for serious illness should they become infected.
COVID-19 is a new disease and we're still learning more information about who is at risk for serious complications. However, you or one of your family members may be at high risk for severe illness if 65 or older and/or have conditions such as:
Asthma or chronic lung disease
Chronic kidney disease
Diabetes
Heart conditions
Immunodeficiency due to cancer treatment, smoking, organ transplant or HIV/AIDS
Liver disease
Severe obesity (body mass index over 40)
You should avoid travel if someone in your home has one of these risk factors. Learn more about risk factors for severe illness.
2. Research your destination
COVID-19 has not impacted all locations equally. Before you head out on vacation, research the place where you are going. Are numbers of new cases going up or down? How many cases do they have there?
"Take a look at the map and see where there's a lot of virus circulation," says Dr. Kahn. "Try to avoid areas with high spread."
It's important to know that the situation is rapidly changing and what was once a safe destination may not always be. In addition, if COVID-19 is widespread in your own community, this increases the chance that you may spread COVID-19 to others while you travel.
3. Choose a destination that allows you to social distance
In addition to knowing how the virus is affecting your destination, think about how many people you will come into contact with on vacation. A crowded attraction may not be a great place to bring kids right now, as it's believed that the virus spreads mainly from person to person. However, some destinations and activities can help your family stay isolated.
You might try family vacations such as:
Camping
Renting a house near a secluded or uncrowded beach
Renting a cabin or house in the mountains
When renting a vacation spot, ask about any precautions or sanitation policies the owners are taking. Surfaces should be wiped down, and all linens should be cleaned. If camping, consider if you have to share common areas such as restrooms or picnic areas.
Wherever you travel, focus on simple precautions to prevent the spread of COVID-19 such as cleaning your hands often, wearing a cloth face covering and avoiding touching your face with unwashed hands.
4. Drive when possible
How you get to your destination matters, too. Driving may give you more control over how many people you encounter along the way.
"With air travel, be aware that you're going to be in at least two airports with people coming in from all parts of the country," says Dr. Kahn. "You don't know where all these other people are coming from and what risks they carry."
To reduce exposure during car travel, pack food and water to take with you for the trip. Try to make as few stops as possible for bathroom breaks and gas. When going inside to use the restroom or purchase items, always wear a cloth face covering and wash hands thoroughly. Bring sanitizing wipes and hand sanitizer for easy access on the go. If you need to stop at a hotel on the way to your destination, call ahead to find out what sanitation policies and precautions they are following.
5. Screen your visitors
Even if you aren't traveling, family members like grandparents may visit you. Make sure it is safe for your visitors to come by asking questions like:
Are you limiting visits outside your home?
Are you wearing a mask and washing your hands frequently when out?
How many people have you come into contact with before visiting?
Have you been sick or had a fever?
Do you know anyone who is sick?
If possible, your visitors should avoid contact with any other people for two weeks before they visit. Since this is not always possible, they should limit extra trips. Visitors should also wash their hands as soon as they arrive and before touching anyone or anything.
Unfortunately, any type of travel will carry some risk as cases of COVID-19 continue to spread. If you do choose to travel, plan as much as possible to minimize your risk and keep your family safe.
Learn more
If you're feeling social distancing fatigue, get tips about social distancing with kids and see more resources to help keep your family healthy during this time at the Children's Health COVID-19 hub.
Sign up
Stay current on the health and wellness information that makes a difference to you and your family. Sign up for the Children's Health newsletter and have more expert tips and insights sent directly to your inbox.